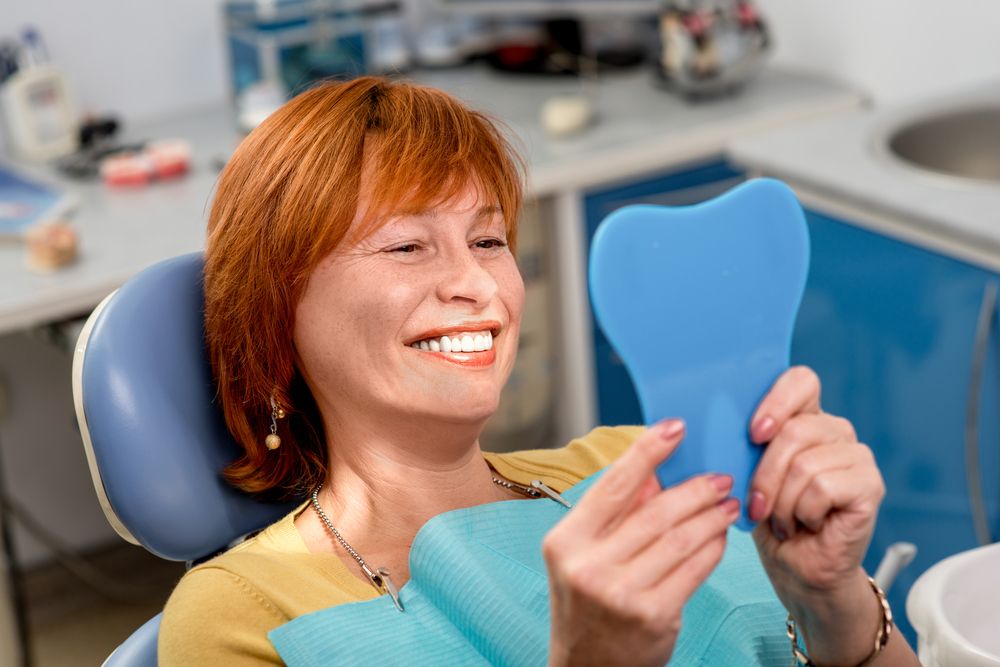 Our teeth are one of the most important parts of our bodies. Not only do they help us express happiness, they also help us to bite and chew, aide our speech, and support the shape and structure of our face. Unfortunately, try as we may to keep our teeth looking and feeling healthy, damage and decay can be inevitable.

Restorative dental work, such as cavity fillings and crowns, can be used to treat minor problems on individual teeth. However, when more than half of the teeth in the upper or lower jaws are affected, much more extensive treatments are required to fully restore the function and and aesthetic beauty of your smile. In these instances, Dr. Greg Manning at Dentistry at Power Ranch may recommend a full mouth reconstruction.
What is a full mouth reconstruction?
A full mouth reconstruction is the term used to describe dental work that aims to restore all of the teeth in either the upper or lower arch. To do this, multiple specialties might need to be involved, including endodontics, periodontics, orthodontics, and cosmetic dentistry. However, as every full mouth reconstruction is completely different, the extent of the treatments that you need will vary, and be discussed with your consultation.
What issues can a full mouth reconstruction address?
A full mouth reconstruction may be recommended to you for a variety of different reasons. Some of the most common reasons that candidates need a full mouth reconstruction, include:
Teeth lost as a result of trauma to the mouth

Teeth lost, loose or broken due to extensive decay or damage
Teeth that are eroded or worn down. This is more commonly seen in patients who suffer from acid reflux or bruxism (teeth grinding)
Symptoms including pain in the ears, jaw, neck and head that are believed to be indicative of bite misalignment
In order to determine if you are a suitable candidate for a full mouth reconstruction, you must first attend an appointment with Dr. Manning. During this consultation, a full examination of your mouth and teeth will be performed, including imaging such as x-rays or a CT scan, so that Dr. Manning can accurately assess the condition of your teeth. He can then use this information to make a recommendation for your treatment plan.
What procedures might be included in my full mouth reconstruction treatment plan?
The exact list of restorative and cosmetic dental procedures involved in your full mouth reconstruction will depend on your individual circumstances and the treatment plan put together with Dr. Manning. Nevertheless, some of the most commonly seen treatments included in a full mouth reconstruction include:
Dental implants – which are used to replace missing teeth or those that require extraction.

Porcelain veneers. These sit on the outer enamel of teeth, strengthening it and creating a whiter and more uniform appearance across the teeth.
Crown lengthening – creating a healthy foundation for a bridge and improving the appearance of teeth that seem too short.
Gum contouring. This helps teeth to all appear the same length and reduces the 'gumminess' of the patient's smile.
Grafting of bone or soft tissue augmentation, which is sometimes needed to support dental work, including implants.
Periodontal cleans – cleaning inside the periodontal pockets to eradicate gum disease and reduce the risk of associated health conditions.
Orthodontic treatments, such as Invisalign. These can close tiny gaps between the teeth where debris and bacteria are more likely to accumulate, causing decay and damage.
If you are suffering from extreme decay or missing teeth , a full mouth reconstruction, performed by our professional and reassuring dentist, Dr. Manning, could help you to achieve a smile that you can be proud to share. For further information, please contact our office today at 480-405-1300.