Are you unhappy with certain aspects of your smile? Small improvements to the appearance of your smile can have profound impacts on your appearance. With advancements in dental technology, cosmetic dentistry can do everything from improving the color of your smile to completely replacing teeth.

As a dentist, Dr. Manning is concerned with improving your dental health. As a cosmetic dentist, Dr. Manning is concerned with helping you achieve your smile image goals, so you can gain confidence in your life, improve your self-esteem, and feel like smiling for days. At Dentistry at Power Ranch, we offer a range of cosmetic dental treatments that can improve the appearance of your smile, as well as your emotional and physical health.


Teeth Whitening
Teeth whitening is one of the most commonly requested cosmetic dental treatments. As people get older, teeth tend to get stained and dull, due to certain lifestyle choices, like smoking, drinking, eating, and poor oral hygiene. Some of the most common culprits of dental staining are red wine, tea, and coffee.

Sometimes all a patient needs to feel more confident with their appearance is a simple teeth whitening. Teeth whitening is a minimally invasive treatment that is performed quickly in our office, after the removal of plaque, tartar, and other debris on the tooth's surface. Depending on your preferences, we can bleach your teeth back to the original color, or even help you achieve a brighter shade than before.

Dental Veneers
Like teeth whitening, dental veneers can help patients quickly achieve a Hollywood smile. Veneers are often used to treat discoloration, worn out, chipped, and gapped teeth. Veneers are also a good option for patients who have permanent staining caused by medication, or have a hard time keeping their teeth white. With dental veneers, we will create a porcelain or composite laminate to bond to the surface of your teeth, covering any imperfections. Unlike teeth whitening, dental veneers are a permanent and more invasive treatment, requiring the removal of enamel from the original teeth.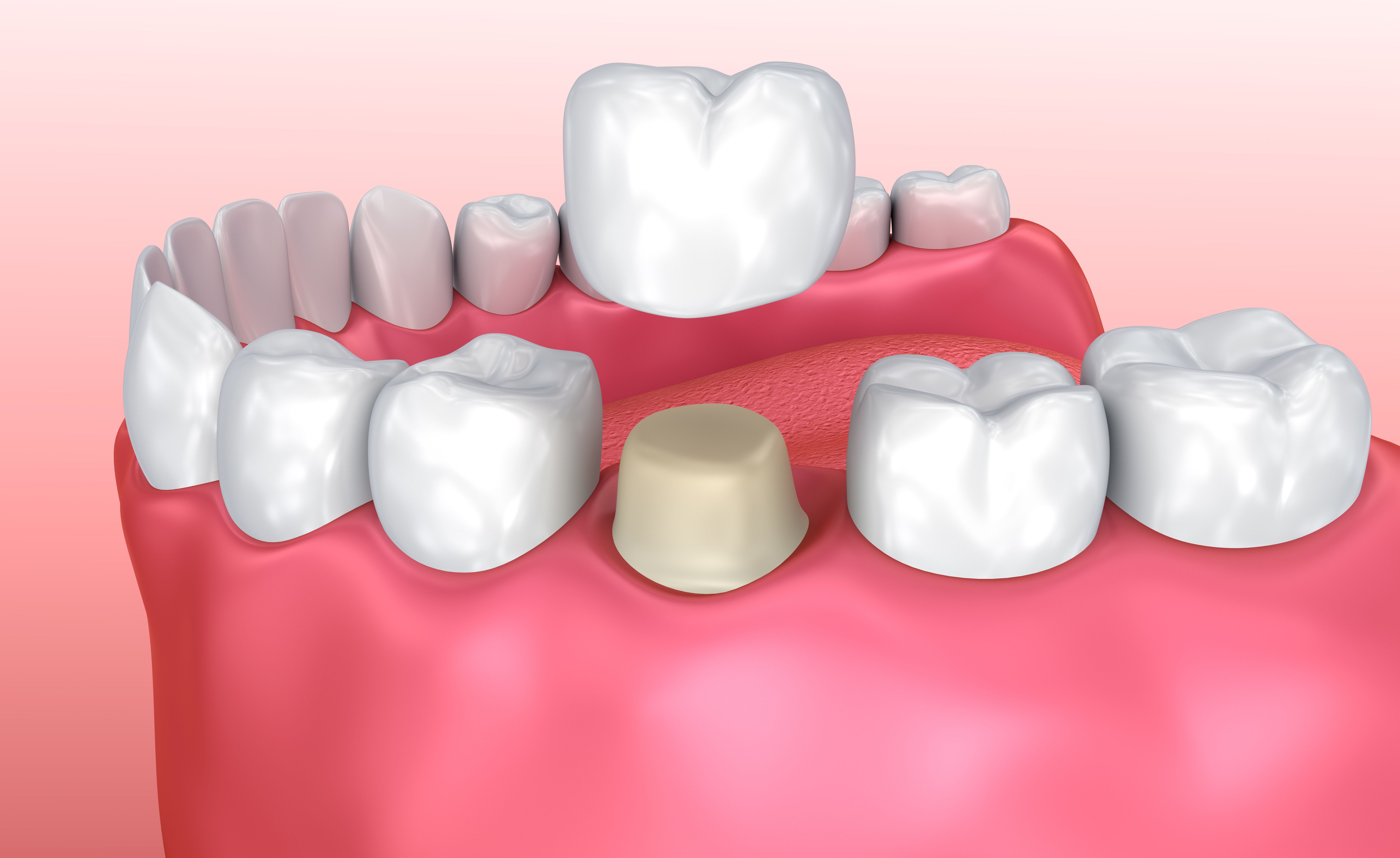 Dental Crowns and Bridges
Similar to veneers, dental crowns and bridges are a good way to restore gapped teeth, damaged teeth, and misaligned teeth, while also improving chewing function. Dental crowns are cosmetic treatments that are also considered restorative treatments, as they are commonly used to repair cracked teeth, infected root canals, and damage from oral trauma.

While veneers simply cover the outside of the teeth's enamel, crowns cap the entire tooth, restoring its structure, appearance, and function. Crowns tend to last longer than most cosmetic restorations. Not to mention, with our state-of-the-art CEREC technology, we are able to create and place your crown in as little as one office visit.

Dental Implants
Dental implants are used to replace lost or badly damaged teeth. During your dental implant treatment, a titanium implant is inserted in the jaw in the area of the missing tooth. This implant serves as an anchor for the new crown.

Unlike other tooth loss restorations, implants are secured in place and more natural looking. Dental implants can give you a more beautiful smile, while also making your entire face appear more youthful and fuller, since missing teeth often cause your face to collapse.

Smile Makeover
Smile makeovers are usually recommended for patients with advanced cosmetic and dental health problems. Smile makeovers use a combination of treatments to completely transform the appearance of your smile. In most cases, we will use any combination of dental veneers, dental implants, teeth whitening, or gum treatments to improve entire arches of teeth and help you achieve your cosmetic goals.


Composite Bonding
​​​​​​​Composite bonding is a cosmetic dental treatment used to repair badly damaged, decayed, or stained teeth, using a composite material that mimics natural tooth enamel. During a composite bonding treatment, we will need to remove any of the tooth decay first. Then, we will apply composite over the tooth's surface, and shape it into a natural shape, then dry it with a high-intensity light. Bonding helps patients cover damaged, cracked, and chipped teeth at a lower cost than dental veneers. At the same time, composite bonding will not last as long as a dental veneers, looks less natural, and remains susceptible to staining.
Contouring and Reshaping Teeth
Contouring and reshaping are cosmetic treatments used to treat chipped, irregularly shaped, and crooked teeth. Contouring can help treat small bite problems, as well as alter the length, position, and shape of the tooth. Typically, this treatment is used in tandem with composite bonding or dental veneers. Contouring and reshaping is a common treatment for patients with normal, healthy teeth that would like small enhancements made to their smile.
Invisalign
Invisalign can help straighten your smile and close gaps without compromising any of the original tooth structure. Patients who are uncomfortable with the idea of traditional braces can greatly benefit from Invisalign's discrete nature. Patients are able to attain a straighter and more beautiful smile by wearing sets of clear plastic aligners that are virtually invisible. Invisalign can help you get the smile of your dreams without disrupting your life.

Choosing Cosmetic Dentistry
​​​​​​​During your consultation for cosmetic dentistry, Dr. Gregory Manning will be able to answer any questions you have on any of the cosmetic treatments you are interested in. We will also take x-rays and evaluate your smile to help you determine the best treatments for your cosmetic dental goals. Want to learn more about cosmetic dentistry at Dentistry at Power Ranch? Call us today at 480-988-2373.

Learn More About the Benefits of Cosmetic Dentistry